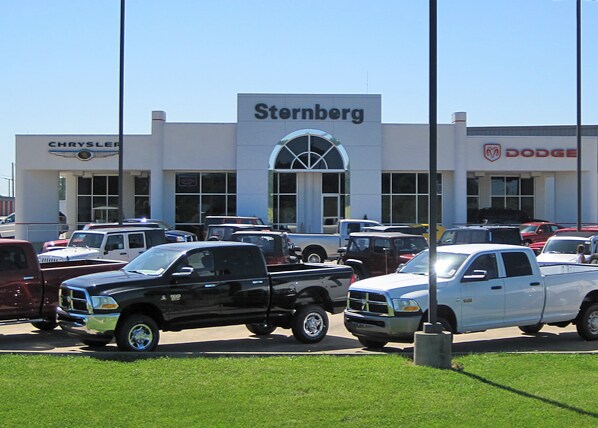 Family Owned, Customer Driven!
Founder Albert Sternberg's love affair with automobiles  

began as a child, and after serving in the US Army during World War II and working his way from the ground up at a local dealership, he founded a corporation in 1952 now known as the Sternberg Automotive Group.
Our group provides services for just about every facet of the transportation market!
Cars, Trucks, Leasing, Rental, Parts, Vehicle Repair, Equipment, Collision Repair ...you name it, Sternberg Automotive Group has it!
From humble beginnings, our family of businesses has grown to include:
-Sternberg Chrysler Dodge Ram Jeep in Jasper, Indiana
  Tom Sternberg, and his son, Curtis, keep the family tradition alive and well
-Sternberg International in Jasper, Evansville and Bloomington Indiana
 Derek Sternberg, Tom's other son, runs these International stores
-Sternberg Collision Center in Jasper
-Sternberg Ford in Dale, Indiana.   See longtime GM, Gary Snow, for all of your needs..
-Our Louisville, Kentucky operations consist of:
   Thrifty Car Sales
   Thrifty Truck Rental
   Commercial Vehicle Leasing
   Sternberg Collision Repair & Truck Equipment Centers.   
Steve Sternberg (Tom's brother) and his son, Brian, keep these Louisville area locations running smooth
.